FUEL DELIVERY APP DEVELOPMENT
Our Payment Mobile App provides the easiest and time saving method to make payments. It's the perfect solution to get things done in a fast and secure way.
FUEL DELIVERY APP DEVELOPMENT
You want it large scale or small scale we got it covered. Mobilise the fuel delivery business to see it do wonders. AppNexus will develop the perfect gas delivery app or fuel delivery service as per your requirement. The app will provide portals for users, service providers, and gas/fuel station owners. If you are a multiscale gas/fuel company, we can design applications to channelize and monitor your fuel business. Mindster specialises in creating the feature rich, user friendly mobile applications. We're rich with a team of vibrant, enthusiastic and code loving team of tech geeks who know what they are doing. Our years of experience is your insurance. And we promise to build you a feature rich, user friendly fuel delivery app.
Feature Ecommerce Solution App
Entrepreneurs
We help the entrepreneurs who want their hand in the e-commerce applications to widen their business territories.
Traditional Businesses
Looking to take your business online? We're just a click away. Mark your online presence and be available to the online geeks, who are the majority now.
Joint Ventures
Planning to take your joint ventures to the next level? E-commerce application is your perfect choice and you're at the right place.
A Quick Look Into The Features Of AppNexus Fuel/Gas Delivery App
Highly Customizable
The application can be customized a sand when required by the customer. We will work until you are happy with the app.
Quick login
Easy onboarding using email or phone number for users
User Friendly
The app is designed to give the user maximum ease and comfort to surf through the sections.
Location activated search
A feature which allows you to find nearby restaurants
API Integration
Integration of Application Programming Interface to provide improved functionality for the application end's user
Place order
After choosing your favourite dish, place the order right away
Seller app
Seller app for the sellers to manage their sales with an easy to handle app
Geo-Location
Integrated GPS technology will allow users to find nearby friends for easy & rapid money transactions.
Real-Time GPS Tracking
As a provider of on-demand food, your objective should be delivering the orders to your customers at its earliest.
Multi vendor inclusion
Multi vendor inclusion is possible by integrating this feature to the application
Wallet options
Wallet integration to the application made possible through this feature
AI integration
Artificial intelligence can also be integrated to the app to provide advanced user experience
What Do We Offer In Our On-Demand Fuel Delivery App Solution?
Thorough Monitoring
Scalable App Support
Revenue Report Generation
With an on-demand fuel delivery app, customers will fill the tanks of their vehicles and enjoy a hassle-free trip using a fuel delivery application. They will make a request using an app for on-demand fuel delivery, and the fuel will be delivered to their specific locations within the estimated time.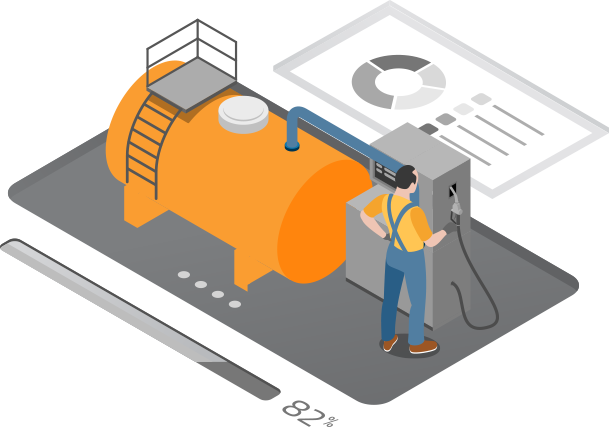 Build a Fuel Delivery App Development that Speaks for Your Brand
01
CONCEPTUALIZATION
Automate Taxi Dispatch Process from Dispatcher Panel
02
DEVELOPMENT
Front end development
Back end development
03
DEPLOYMENT
UAT & feedback
App deployment
04
TESTING
Final touch
QS & testing