Salon Booking App Development
Beauty concepts are changing everyday. We develop applications which bring these changes to the tip of your finger. Digitize your beauty and salon perceptions through our high-end applications and bring in sales and customers like never before.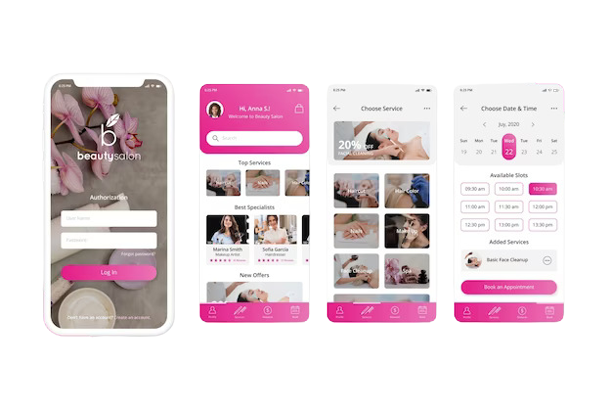 AppNexus enables faster and professional checkout with a built-in point of sale software that integrates with your appointment calendar. You can now spend less time at checkout and more time with your clients.
AppNexus Beauty and Salon Applications
Salon Booking App
Salon booking application development to schedule salon booking on your time and convenience.
Beauty Tips App
Application which gives you daily beauty tips or timely beauty tips to maintain a healthy body.
Makeover Tutorial App
Makeover tutorial application to learn new styles that suit you best and try out a different look.
Today's digital era has inspired hundreds of thousands of young entrepreneurs to venture into different businesses. Many enthusiastic businesspersons check trending mobile app ideas and the salon app is one of them. On the other hand, these days, when everything is going online, having a brick-and-mortar salon is not just enough.
Features of AppNexus Beauty and Salon Mobile Applications
Quality Assurance
Quality of the salon or services provided through the app can be cross checked before approving the profile. This creates authenticity.
Establishing Brand Image
A mobile application will add value to your business and turn it into a brand. Better communication and easy access of the apps makes it user friendly.
Customer Engagement
Engaging the customer on time without keeping them on wait is how the applications help the salon owners.
Customer Analysis
Customer behaviour can be carried out based on the information updated in the application.
Login/sign up
Easy onboarding to facilitate ease of access and profile usage
Hassle-free Communication
Mobile applications allows quick and instant communications. In-app chat bots are a boon for the users.
Digital Invoice
Digital invoicing facility to make the transactions faster. Also, it stands as a proof of your transaction and service availed.
Intuitive UI
Interactive user interface to navigate customers through the sections effortlessly.
Virtual Tour
The application provides a virtual tour for the users through various services offered by the salon.
Strategic Process Of Mobile Wallet Application Development
01
CONCEPTUALIZATION
Gathering requirements
Understanding app's goal
02
DEVELOPMENT
Front end development
Back end development
03
DEPLOYMENT
UAT & feedback
App deployment
04
TESTING
Final touch
QS & testing